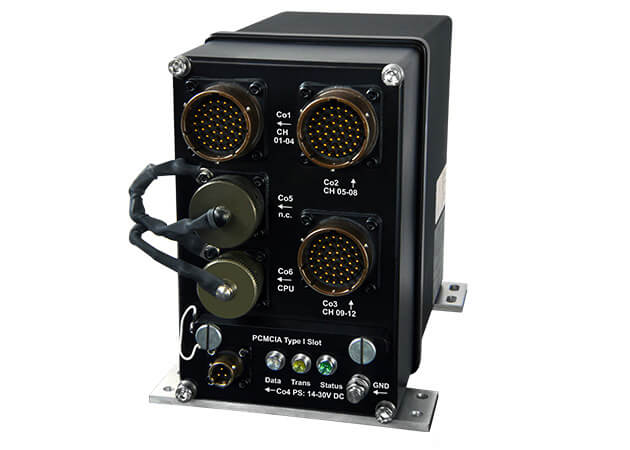 The AIDA system is a modern Data Acquisition System, originally developed for the military Lynx helicopter. The system covers the monitoring and time-referenced signal recording and analysis of more than 10 signals such as the rotary speed of the main rotor, speed of high- and low pressure turbines, drive torque, the angle of bank, the airspeed, the load on the sponsons, exceedance of minimum height for radar measurement, exact determination of the rotor start / stop cycles and the estimation of the life time of the turbines.
Also acoustic and optical warning signals for the pilot can be activated when the maximum rotation speed of the main turbine is reached, or in case the radar height measurement falls below a minimum level and for excessive stress loads on the landing gear. It has been proven that the AIDA recorder provides higher flight safety, extends the inspection intervals for all mechanical parts of the air craft and considerably reduces the aircraft service costs. Typical applications include the determination of start and landing weights, measurement of actual flight hours, load at landing, determination and analysis of manoeuvres and incidents.
Technical Features of AIDA Recorder
acoustic warning signal for main rotor overspeed
acoustic warning signal for radar altimeter low heights
exact measurement of rotor start / stop cycles
estimation of turbine life time consumption
drives a dedicated lamp in the CWP
built-in self monitoring features
time history recording of more than 10 signals
internal storage lasts for more than 100 flight hours
fast data read out via SRAM cards
customised technical features possible at any time
Recorded Signals
Main Rotor Speed
High and Low Pressure Turbine
Rotational Speed
Engine Torque
Bank Angle
Indicated Air Speed
Strain of the Sponsons
Weight on Wheel Switch
Radar Altimeter Low Warning
Proven Benefits
improved safety in flight
detection of all critica auto rotation events
lengthening of maintenance intervals
extension of the air frame life time
prolongation of the engine exchange interval
decreased maintenance costs
eased load assumptions for fatigue life estimations
enables the creation of a substantial data base of the actual loads and usage spectrum
used fleet-wide by the Dutch, German and Brazilian Navies
Admission of AIDA recorder
The AIDA recorder is certified for aviation systems according to the MIL-STD-810E, electromagnetic compatibility according to MIL-STD-416D and vehicle power supply according to MIL-STD-704E.